We require visitors to be 18 years or older to access demo games, please confirm that you are 18+
Introduction to Oasis Poker
When it comes to classic card games in casinos, poker is a highly sought-after and challenging game. Nowadays, various
online casinos
offer different versions of poker games, including tournaments to attract poker enthusiasts. The popularity of the game is due to the skills required in playing, unlike slot games, where randomness takes center stage.
NetEnt
has now merged the excitement of slots and the challenges of poker to create Oasis Poker, a game that casual and regular casino players can enjoy.
About Oasis Poker
Oasis Poker is a game that allows players to play against the house by flipping over the cards for a fee, thus providing a realistic gaming experience that redefines
online casino
gaming. The game can be played for free or in a money version, like other casino games. The dealer needs to have at least a King and an Ace or more to qualify. The game uses only one deck of playing cards. Players have the opportunity to swap their cards for a fee.
Card Swapping in Oasis Poker
In Oasis Poker, players can swap cards, and each swap incurs a corresponding fee. For instance, swapping one card attracts a fee of 1 time the ante bet. Swapping three cards requires a fee of 3 times the ante bet, while swapping five cards costs 1 time the ante bet, and an automatic call bet is made.
Sample Poker Hands in Oasis Poker
Players should keep in mind the following poker hands when playing Oasis Poker:
Royal Flush - 5 consecutive cards from the same suit
Four of a Kind - 4 cards with the same value
Straight Flush - 5 consecutive cards, all in the same suit
Full House - Two sets of cards - 3 of the same value, and the other two with similar values
Gameplay in Oasis Poker
To start playing Oasis Poker, select your wager by clicking on the chips found at the game's bottom. After selecting your wager, place it in the 'Ante' field, increase it to the maximum if you wish, and click 'Deal'. You will and the dealer will receive five cards, with four of the dealer's cards facing down. You have a chance to swap your cards at this point, although it is not mandatory, and it will cost extra.
Conclusion
Oasis Poker is one of the most challenging table games around. Players require skill and patience since their decisions can impact the game's outcome. Before playing, it's advisable to learn the card-swapping fees. Check out our online casino bonuses section to boost your gameplay. You can either get started with a bonus or play for free today!
Top 10 NetEnt Casinos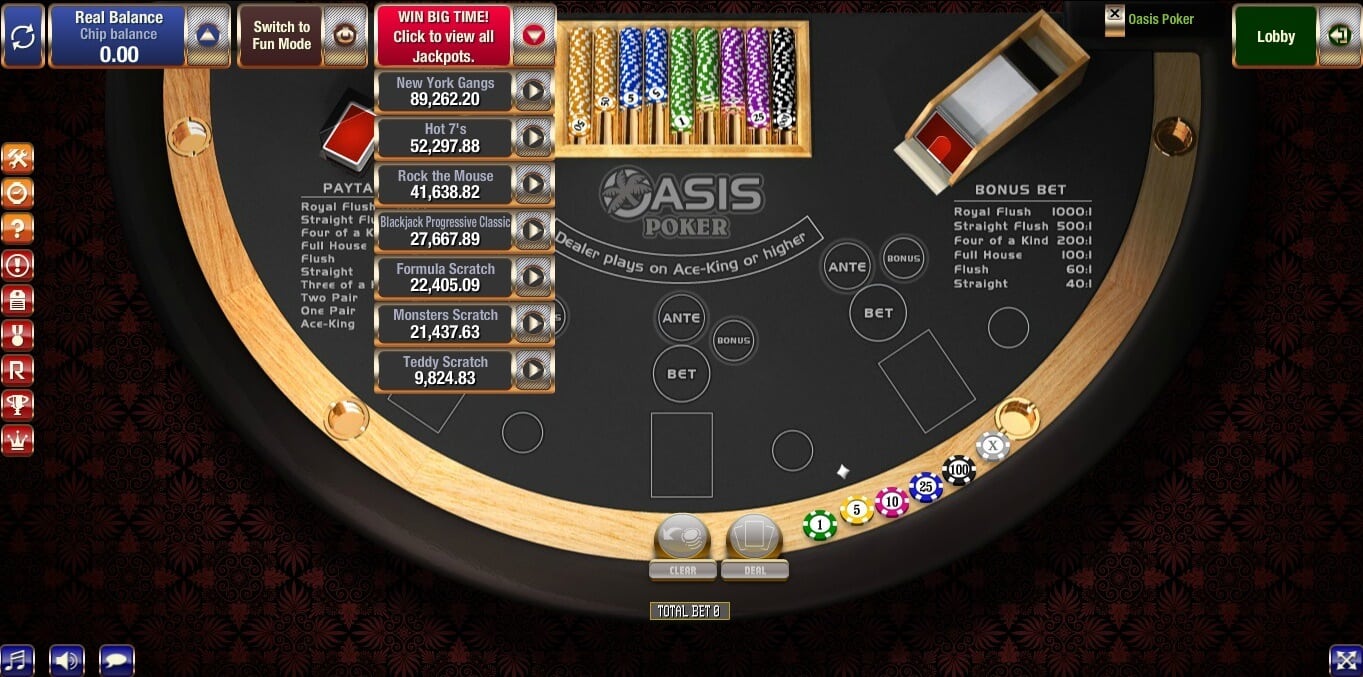 try more games