We require visitors to be 18 years or older to access demo games, please confirm that you are 18+
Throughout human history, people have dedicated themselves to uncovering knowledge and discovering ways to achieve immortality and transmute ordinary metals into gold. This practice is commonly referred to as alchemy, a philosophic tradition that has captivated the human imagination for centuries. Today, Playtech has created a new way to experience the thrill of alchemy with the video slot game Alchemists Lab. This game allows you to step into the magical laboratory of an alchemist and experiment with the traditional symbols of this philosophy.
Details of Alchemists Lab
Alchemists Lab by Playtech is a colorful video slot game that pays homage to the alchemists who pursued the elixir, gold, and immortality throughout history. The game is designed with three reels and a single pay-line. Players can choose from coin sizes ranging from 0.01 to 1.00 for every line. According to the game's paytable, players have the chance to win a grand prize of 10,000 credits. The game also includes exciting video slot features, such as scatters, and delivers an exceptional bonus feature. The game is creatively designed, with the blue potion on the left side of the screen displaying winnings and the green potion on the right displaying the total wager. Experienced players can benefit from a 'Max Bet' feature, shown at the bottom of the screen.
Scatter Symbols in Alchemists Lab
The scatter symbol in Alchemists Lab is the book that the alchemist references. The presence of these symbols on the reels will activate the bonus feature. Although these symbols will not create winning combinations, three scatters that show on the reels guarantees that the player can enjoy the bonus game.
Bonus Game
Alchemists Lab offers players a friendly and enjoyable gaming experience. Completing the bonus feature provides adventure and enjoyment. When three scatters are shown on the reels, the game will shift to the bonus round where players must select three potion bottles. In this feature, players must create gold, and the more gold coins created using the potions, the higher the reward. There are seven potions to choose from in the game, and players must select the right potions to make gold and win prizes. In short, this video slot game from Playtech gives players the opportunity to experience the life of an alchemist and discover the long-sought after gold.
Conclusion
One of the top features of Alchemists Lab is its ease of play with simple rules and a straightforward pay-table. There are no intricate winning combinations to memorize, only scatters that activate the bonus game. Furthermore, Alchemists Lab is eye-candy certified with its two colored potions on either side of the screen. Be sure to check out the online casino bonuses section to find out what bonuses our partners offer when you sign up and play Alchemists Lab.
Top 10 Playtech Casinos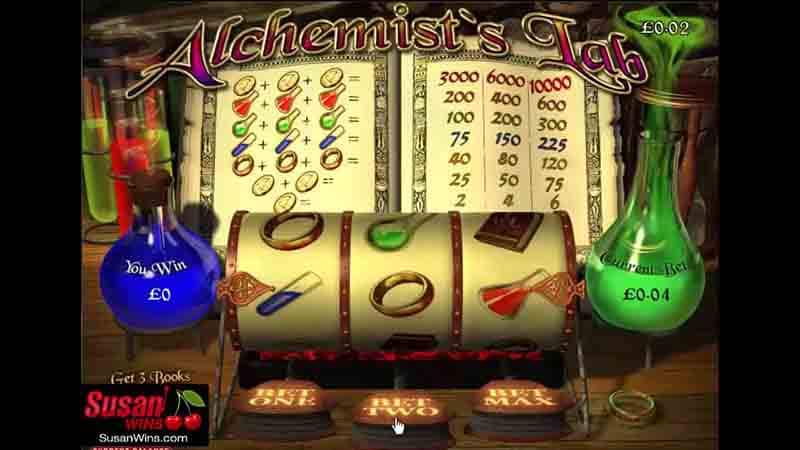 try more games