We require visitors to be 18 years or older to access demo games, please confirm that you are 18+
Introduction to Medusa's Gaze
Medusa's Gaze is an online slot machine that revolves around Greek mythology, specifically the myth of Medusa. Developed by Playtech, this arcade game is unique in its design and relies on Medusa's famous ability to turn people to stone with just a glance. The game features a central colored disk consisting of four concentric circles, with Medusa's head at the center. The disk is surrounded by columns and stone sculptures, giving the impression of entering Medusa's lair. The disk contains nine colored squares and one white "wild" square.
Game Symbols
Medusa's Gaze is a 4-reel arcade game with twelve paylines. To win, players must match three or more same-colored squares arranged in a line or reel. The game is uncomplicated and includes selecting the bet size, ranging from $0.20 to $500, and spinning the reels. Upon spinning, the squares turn around the Medusa's head, and payouts for winning combinations are made according to the pay table. When the squares forming a winning combination fall, they are replaced with new ones. If a new winning combination is formed, the payout is multiplied by the game's win multiplier, which increases by 1x for each consecutive winning combination. The maximum payout for a combination in this game is 10,000x.
In-Game Multipliers
Medusa's Gaze allows players to spin for as little as $0.20 or as much as $500. Additionally, the Auto Play function lets players play up to 50 games with one click. After each spin, any winning combination of three or more squares are turned to stone and replaced by surrounding squares. The game's win multiplier increases by 1x for each combination that occurs after the initial one. This means that the more consecutive falling squares there are, the higher the payout.
Medusa's Gaze is a simple game that features only twelve paylines. When players press the "Play" button, the plate turns in an anticlockwise direction, with the highlighted segment being where active paylines are located. Unfortunately, this game does not feature any bonus games or free spins.
Conclusion
Overall, Medusa's Gaze is a straightforward game with simple rules. Players need not overthink their next move, but instead just place their bet, spin the reels, and hope for a successful outcome.
Top 10 Playtech Casinos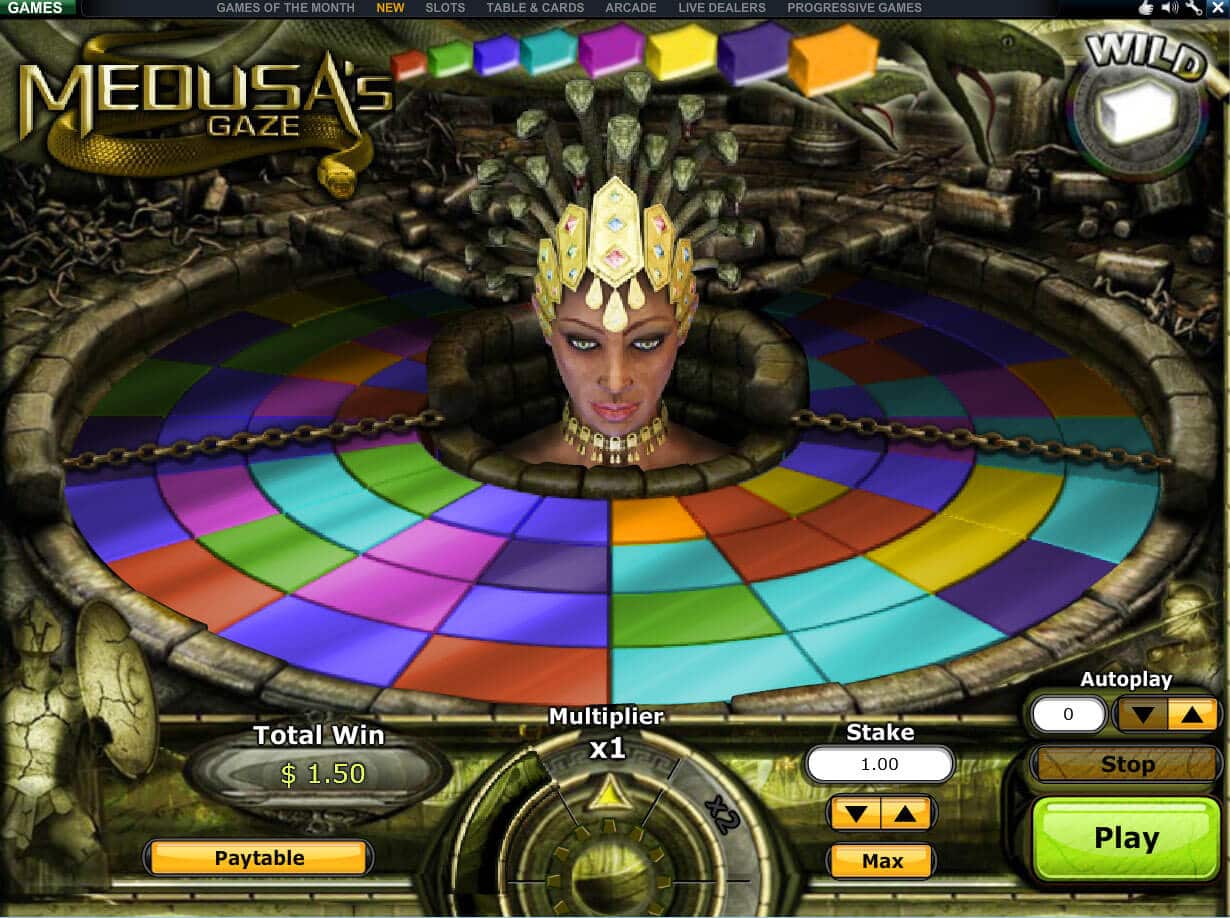 try more games