We require visitors to be 18 years or older to access demo games, please confirm that you are 18+
Introduction
Jacks or Better Multihand is one of the most popular variations of video poker around the world. Playtech, a leading software developer, created this amazing game that can be played on smartphones, tablets, and computers. This free-to-play online video poker game follows the traditional rules of Jacks or Better, allowing players to bet on 1, 4, 25, or 100 hands. The game enables players to bet with coins ranging from 1 to 5. The number of hands being played will determine the range of coin denominations. For instance, if playing 100 hands, only 5-cent coins can be wagered. The coin value can go up to $5 when playing one hand.
Game Symbols
In order to win big in Jacks or Better Multihand, players must obtain any of the nine winning hands. These include Two Pairs, Flush, Straight, Royal Flush, Three of a kind, Full House, Four of a kind, Pair of Jacks or Better, and Straight Flush. After each winning hand, players can choose either to collect their rewards or gamble again by clicking the "Double Button". This is where the "Gamble" feature comes in.
In-Game Multipliers
Jacks or Better Multihand features five different levels to play and six different coin values to choose from. It is recommended to play level 5 instead of 1-4 because the game return to the player goes up when playing at level five. The more hands that are played impact the hit frequency of the game. With a hit frequency of 44.7% while playing with one hand, increasing the number of hands to 25 ensures the hit frequency goes up to 99.8%. The game has a maximum win of 4,000 coins, which is approximately equivalent to €40,000 when playing with one hand. However, the maximum win can go up to 100,000 coins, which is approximately equivalent to €50,000 when playing with 25 hands at the same time. It has an overall Return to Player (RTP) percentage of 99.56%, which is higher compared to other online poker games.
Jacks or Better Multihand offers a gamble feature called "Double." This feature allows players to double their rewards, but if they are not interested, they can continue playing the regular video poker game. When players take part in the "Double Up Gamble" round, they can predict the color of the next card. If the player correctly guesses the color, their winnings will be doubled. In case of a correct prediction, players have the option of predicting again on another card or collecting their current winnings.
Golden Wild Symbol
Jacks or Better Multihand has no wild symbol in its special features.
Conclusion
Jacks or Better Multihand, developed by Playtech, is an exciting Jacks or Better video poker game. It has high multipliers and is visually pleasing. The game only has advantages and no limitations. All gamblers should try playing this game.
Top 10 Playtech Casinos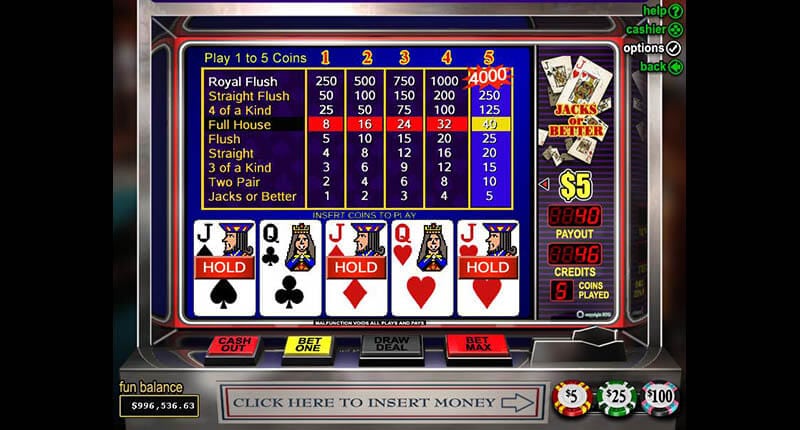 try more games