We require visitors to be 18 years or older to access demo games, please confirm that you are 18+
Introduction to Haunted House
Slot games
come in different themes and genres, all with the aim of providing slot enthusiasts and casino regulars a chance to win instant prizes while enjoying themselves.
Playtech
is no exception to this formula in most of its
slots
games, including Haunted House slots. Based on its name, this game offers a spooky treat for all those who love scary themes. The Haunted House slots game from Playtech is perfect for those who enjoy the thrill of a spooky and potentially rewarding gambling experience.
Details of Haunted House
The Playtech Haunted House slots game features a black background with witch and
Dracula
figures in the background to set the mood for a different kind of slot game experience. For this 3-reel and 5-pay-line game, vampires, bats, and coffins are the main thematic symbols that will certainly scare you while offering various opportunities for rewards. The sound effects add an extra layer of spookiness, making this unique slots game a perfect choice for those looking for a different type of gambling experience. Symbols that you will encounter in the game include coffins, flaming candles, a golden chalice, garlic, and crosses - all items that one would see during a visit to a vampire's lair. The maximum jackpot for this game is 1,800 coins, and its payout percentage is 94.50%. Moreover, this game does not feature the usual scatters or wilds. The maximum bet that can be played is 5 coins, which has a theoretical payout rate of 96.71%.
In-Game Symbols and Potential Winnings in Haunted House
Two of the high-paying symbols in Haunted House slots are the garlic symbols and crosses. The general idea of this Playtech slot game is to score at least three similar symbols to start winning. For instance, if you can get five garlic symbols on the reels, not only can you keep vampires at bay, but you can also win the big jackpot. The amount that you will take home will depend on the number of chosen lines. The jackpots in Haunted House offer anywhere between 1,000 to 5,000 coins. Stakes, crosses, candles, and coffins will also offer potential coin winnings. If your next spin manages to get three crosses, the game will reward you with 300 coins. Three coffins will get you 200 coins, and 100 coins are reserved for three stakes. The cloves of garlic are not just your potent weapon against vampires; these symbols also serve as the 'cherries' linked with in-game payouts. For example, if you get one garlic on the reels, the game offers you five credits, and getting two cloves of garlic gives you back 25 credits.
Conclusion
While Haunted House lacks some critical
elements
present in many other Playtech slot productions, such as scatters and wilds, it still offers a unique and entertaining gameplay experience. The theme of the game, accompanied by the choice of music and symbols, make Haunted House a worthy game to play during your free time. Browse through our
online casino
bonuses section to find a bonus to get started, or simply play for free.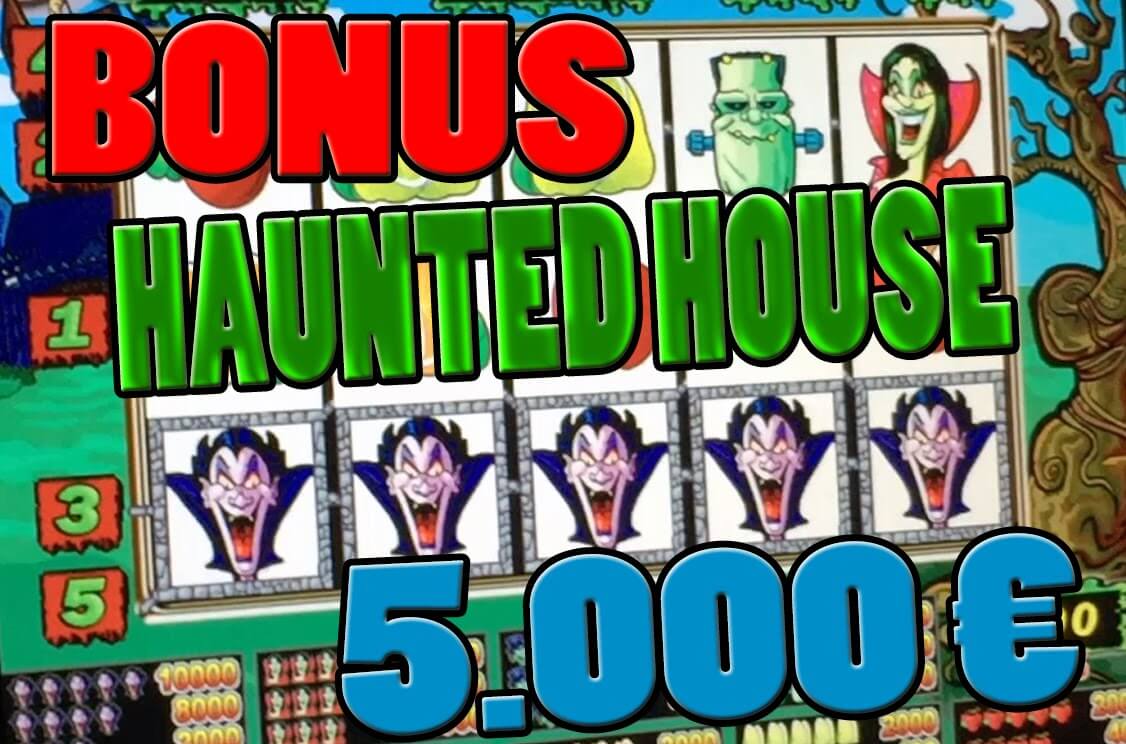 try more games