We require visitors to be 18 years or older to access demo games, please confirm that you are 18+
A Fun Introduction to Granny Prix
Get ready for an exciting race, but not your typical car or horse race, but rather a race between a group of enthusiastic grannies in their go-karts. Granny Prix is a scratchcard game that is truly unique and different from the other traditional
online casino
games. With fun features, expert design by
Microgaming
, and a jackpot worth 2,500 times your bet, this scratchcard is a sure hit among players. Additionally, the varying stakes provide an option for all types of players to join in on the fun.
The standout feature of Granny Prix is undoubtedly its fun theme that is sure to leave players entertained. The player keeps a close eye on the granny with the orange helmet, which carries the biggest prize of 2,500 times your bet. However, the manic granny with the yellow helmet is also a great contender, bringing with it a prize of 100 times your bet. Luckily, starting a new race is as simple as clicking on the "New Card" button at the bottom of the screen.
This scratchcard game does not have any bonus features or
progressive jackpots
, so players can solely concentrate on the excitement of the game itself. For scratchcard enthusiasts, Granny Prix from Microgaming is definitely worth trying.
How to Play Granny Prix
Playing the game is almost effortless, as players start by selecting their preferred bet amount. It should be noted that higher bets will offer higher potential prizes. Once the player has chosen the desired bet amount, it is time to start scratching and reveal the symbols on the scratchcard. If three symbols match, the player is awarded a prize based on the values shown on the paytable. Don't fret if a turn doesn't yield a prize as they come in quick succession, providing players with constant entertainment.
Granny Prix is designed to be understandable to all players immediately, making it a perfect game for those who do not want to spend time on complex online
casino games
. With its user-friendly interface, it is almost impossible not to enjoy this unique game. Why not try a few games for free right now and see how much you like it?
The Exciting Conclusion to Granny Prix
Granny Prix is living proof that online scratchcard games can still be filled with excitement and joy. The fun theme and enormous prizes are sure to keep players entertained throughout their gaming experience. Even if players do not hit the jackpot, they can still have a grand time while playing Granny Prix. Don't hesitate to try the game for free or look for a casino bonus to enjoy
free spins
.
For more
exciting games
like Granny Prix, check out our Top 10 Microgaming Casinos list below.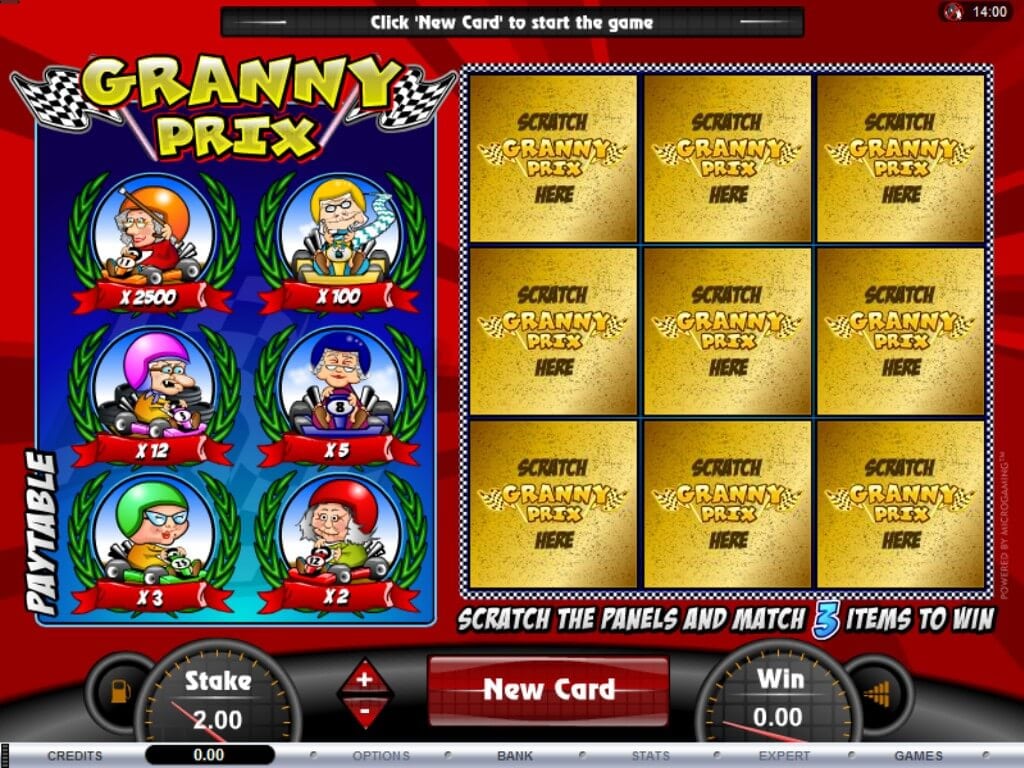 try more games