We require visitors to be 18 years or older to access demo games, please confirm that you are 18+
An Introduction to the Age of Discovery Slot Game
Experience the thrill of the world's greatest discoveries with the Age of Discovery slot game, designed by popular software producer
Microgaming
. This game has earned a reputation as a crowd favorite thanks to the excellent promotion efforts of the Microgaming team. Microgaming offers an immersive gaming experience, complete with exciting gameplay and fantastic rewards. Age of Discovery features all the
elements
of a true adventurer, including compasses, ships, sextants, flags, and an array of exotic fruits like avocados, bananas, pomegranates, figs, and even monsters. You will embark on an epic journey across the globe in search of gold, adventure, and new emotions. And the most incredible thing about this game is the massive 60,000-coin jackpot that awaits you.
Game Symbols
The Age of Discovery was a time of exploration and discovery, and with it came new and exotic foods such as mangoes, papayas, bananas, avocados, and pomegranates, all of which are represented on the reels of this slot machine. Other symbols include a sextant navigational device, a shield, Christopher Columbus's sailing ship, and the Santa Maria ship bearing the Holy Red Cross on its sails. There are also special symbols that appear on the reels, including a hand-drawn serpent that serves as the scatter symbol, a golden coin that represents the wild symbol, and a compass that triggers a bonus game when three or more appear on the reels in any position.
In-Game Multipliers
As with most Microgaming
slot games
, there is a wide range of betting options to choose from, allowing players to find the best bet to match their strategy. There are three variable elements in play, giving players the choice to select between 1 and 25 paylines with 1 to 10 coins of the following sizes: 0.01, 0.10, 0.20, and 0.50. You can play some super spins with 1 payline and 1 coin worth 0.01 credits or go all out with 25 paylines and 10 coins worth 0.50.
The scatter symbol in Age of Discovery is the compass, and if you get three or more on the screen, you trigger a second screen bonus game where you will be provided with a treasure map. The map is much like the ones you used to draw when you were a child, with crosses and a continent that isn't on this planet. If you find three or more scatter compass symbols on the reels, you will be able to navigate your way to a unique bonus game. The feature displays a map of islands marked with "X" treasure symbols, which you need to hunt and earn random cash prizes. However, if you come across one of the skull and bones symbols, it signifies the end of the game, and you need to return to the safety of the boat.
Golden Wild Symbol
The wild symbol in this game is the golden doubloon coin that replaces all other symbols except for scatters. It also has the highest value in the game, providing you with 60,000 coins for five consecutive wilds.
Conclusion
Embark on an adventure with the 25-line Microgaming Age of Discovery slot game. As you journey, you'll encounter lucrative wild symbols, scatter wins, and even treasure bonuses. Once you're given a map, make your moves and win up to 32,250 coins by avoiding the skulls and bones.
Top 10 Microgaming Casinos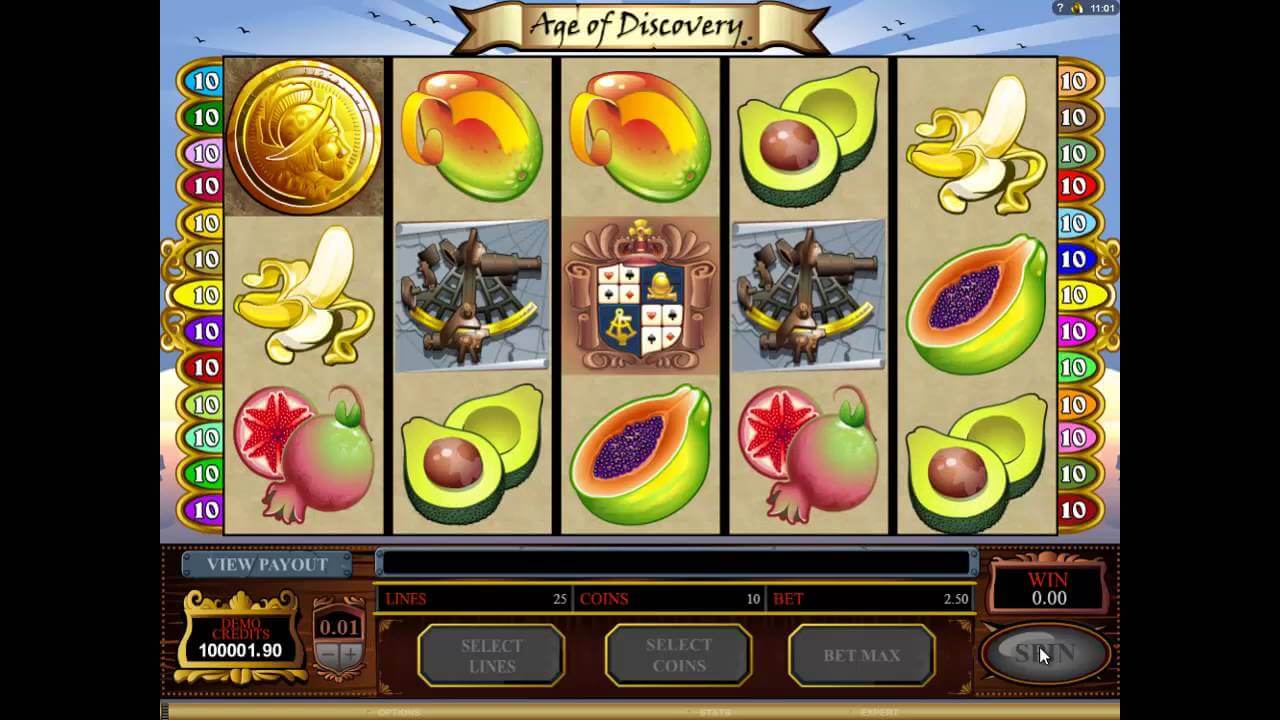 try more games