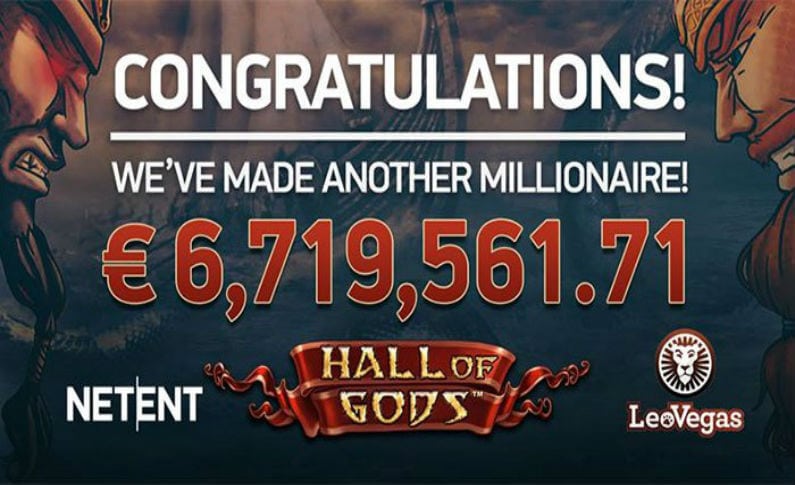 Posted in Winnings
July 10, 2018
Top Jackpot Winners of the Spring 2018
€2,667,743.19 at PokerStars Casino
A NetEnt slot game, Mega Fortune, made two people millionaires, less than 24 hours after giving away its last €4 million jackpot. The fortunate player this time is based in the UK and won at PokerStars Casino with a €1 bet. It was the biggest win for PokerStars Casino thus far. It's an astonishing record that was possible due to the unpredictability of online gambling. This goes to show how much gamblers love to play Mega Fortune.
€6,719,561.71 at LeoVegas Casino
NetEnt's Hall of Gods slot game was the game of fortune at LeoVegas Casino. A lucky player won over €6 million with just a single €10 bet. This year has been a lucky one for NetEnt players, as they continue to win millions at an incredible pace. Moreover, LeoVegas has already shelled out over €16 million in mobile jackpots, putting to bed the notion that PC gambling was better. The future looks bright for mobile devices in 2018.
€3,773,845.27 at LeoVegas Casino
LeoVegas Casino's Mega Fortune slot game is on an incomparable winning streak, shelling out millions of euros to lucky players. The recent win means Mega Fortune has given out its fifth jackpot this year, and it is not even halfway through 2018. This winning streak has never been seen before, and could easily see ten more lucky players becoming multimillionaires this year alone. NetEnt is in good stead to make a killing this year with such an incredible winning streak.
Multiple Wins at BitStarz Casino
While BitStarz Casino may not be making millionaires overnight, its players are ecstatic at the fortune they find at the casino. In April, two players won $148,023 and $59,413, respectively, with two more lucky players getting their share of two huge wins later in the year. These wins are getting more frequent, so it's not surprising to see more players getting huge amounts of cash.