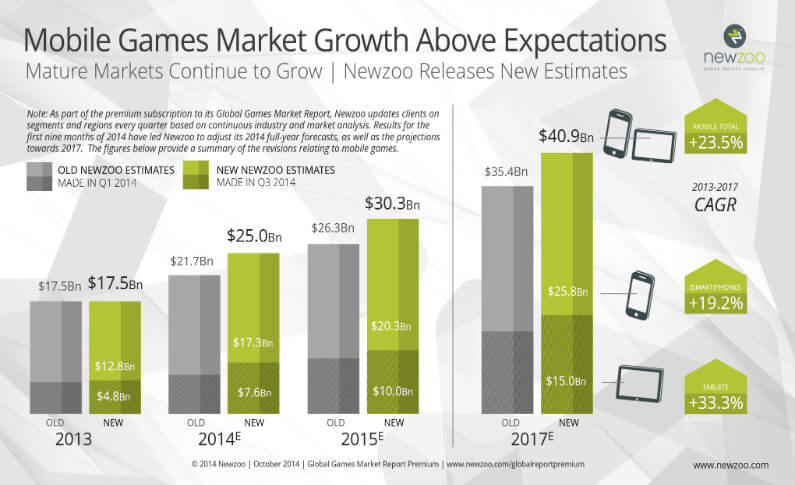 Posted in Industry
August 20, 2017
Staggering Growth of the Mobile Gaming Industry: $40.6 Billion Revenue
The mobile gaming industry is experiencing astounding growth with mobile games generating $40.6 billion revenue in 2016 alone. Google has announced it will open the Google Play Market to real-money gambling apps from August 2017, a sign of the industry's popularity. Google is a major power in online searches so its approval of mobile gambling apps is significant. Currently, French, British, and Irish players can download these apps. Operators need to provide documentation like licenses for approval. The mobile gambling industry is expanding rapidly, and with this change, it could reach even more users in the future.
The mobile gaming industry has already reached over $40 billion in revenue. Over 2.6 billion people worldwide use smartphones, with 62% downloading at least one game within a week of purchase. In 2016 alone, there were 90 billion downloads of mobile apps, with Google Play being the main source. Mobile games made up almost half of the total app revenue of $89 billion that year. Mobile gambling apps represent the fastest-growing segment with all major online casinos having dedicated mobile apps or mobile-optimized websites. Google's change indicates this growth will continue, with more people expected to use mobile gambling apps.
Mobile gaming technology has advanced considerably, making high-quality, feature-rich mobile games and online casinos a reality. NetEnt's latest Mobile Live casino is an example of a platform providing a great gambling experience. Samsung has smartphones that can work with VR visors, making it a possibility to have fully immersive online casinos on mobile. There are two types of mobile gambling apps: native apps, which maximizes hardware, and web apps, which do not need to be downloaded separately. Despite limitations, native apps provide a better experience with added features.
Mr Green Casino offers an extraordinarily beautiful and efficient native mobile app that has won awards. It's unique rather than trying to replicate the desktop experience and users have responded well to it. It's available for both Android and iOS devices, shows the way for other operators to follow and for players, it makes mobile gambling even more attractive.