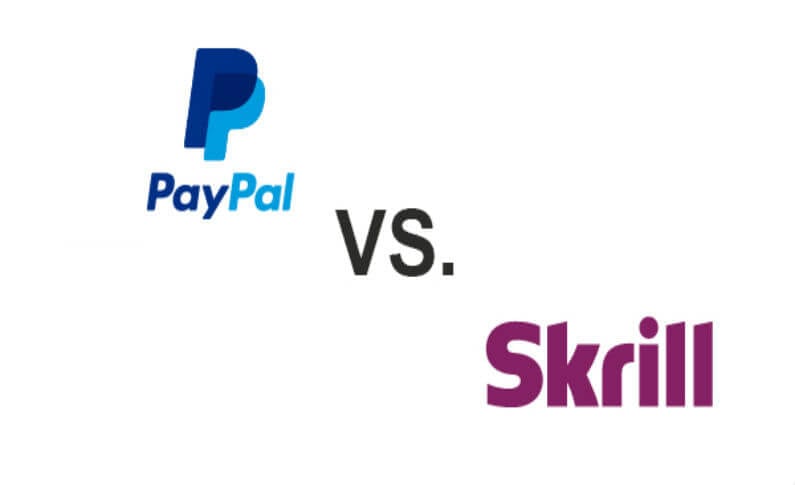 Posted in Industry
August 2, 2018
Skrill Vs. PayPal: Which Is the Ultimate Online Casino Payment Method?
Secure, fast, easy-to-use payment methods that don't charge high fees are a must when it comes to playing at online casinos. Both Skrill and PayPal are excellent e-wallets that meet all of these requirements and more. If you're considering using one of these payment methods, you should compare the small differences in services provided, and their availability at your location.
Skrill Vs. PayPal: How Do I Sign Up?
Signing up for both Skrill and PayPal is straightforward as they are e-wallets. Head to their respective websites, register, provide the necessary information, and your account will be activated upon verification. The mandatory banking and personal details are the same for all e-wallets, but the main difference lies in the verification process. Skrill will have your account approved within 24 hours, while PayPal might take up to 48 hours. Registering your e-wallet and associated applications to manage it are free for both Skrill and PayPal.
Skrill Vs. PayPal: How Much Are the Fees?
The transaction fees are an important factor to consider for online casino players when selecting the best payment methods. Keep in mind that some gambling operators may charge a fee for deposits or withdrawals (or both), so thoroughly read their Terms & Conditions before opening an account. Neither Skrill nor PayPal charge any fees for receiving payments into your account.
Withdrawals through local payment methods (banks) cost €5.50 on Skrill, while transferring your Skrill money to a Visa card could cost up to 7.5% in fees. For PayPal, instant transfers with an attached debit card cost $0.25 per transfer, whereas withdrawing money to your bank account is free. Transfers between Skrill e-wallets come with a 1.45% charge, and currency conversion fees amount to 3.99%.
PayPal's fee structure is more complex than Skrill's, so it might appear friendlier at first glance. However, take the time to study it carefully because the business type you transact with and its location are factors that also contribute to the final charge. In comparison, Skrill charges higher fees overall than PayPal. To determine the best option for you, consider your unique situation and the casino's terms for these payment methods.
Skrill Vs. PayPal: When Will I Get My Money?
Withdrawal times are just as important as withdrawal fees for many online casino players. PayPal surpasses Skrill in this regard, as PayPal can process withdrawals in just two hours, while Skrill requires up to 24 hours. Keep in mind that various factors determine the exact withdrawal times and are subject to change depending on the situation. Regardless of the amount of time it takes to turn your winnings into cash, you already have that money in your account.
Skrill Vs. PayPal: Can VIP Treatment Be Expected?
One distinguishing factor between Skrill and PayPal is their VIP services and loyalty programs. PayPal has no programs offering any special advantages for users who add more funds to their e-wallet. Skrill, on the other hand, provides various bonuses as part of its VIP program. Its four-tiered system offers separate advantages for each level of status based on transaction amounts, ranging from slightly lower transaction fees under bronze status to lower or eliminated fees entirely, and personal account management with diamond status.
Skrill Vs. PayPal: What About Help?
Both Skrill and PayPal have round-the-clock customer support services, but customer complaints reveal that basic FAQs and chatbots may not always address the issues that users face.
Skrill Vs. PayPal: Can I Expect Extra Bonuses From Casinos?
Skrill and PayPal take different stances on online gambling. While Skrill was created for iGaming transactions and encourages funding online casino accounts by offering bonuses and promotions, PayPal does not. You may not receive any special bonuses for your PayPal account, and many casino promotions may be closed off to you because PayPal is not on the "approved" list. Transferring money to and from your casino accounts may also present challenges when using a PayPal wallet.
Skrill Vs. PayPal: What About My Security?
Your money and data are secure when using Skrill or PayPal, as both implement robust security measures for protecting their customers' accounts. Additionally, using e-wallets to make payments to an online casino keeps the casino from accessing your banking information directly. Even if the account is compromised, critical data remains secure.
What is the Best Online Casino Payment Method: Skrill or PayPal?
Skrill and PayPal are both excellent payment methods to use, but because they have been developed for different purposes, Skrill is the superior e-wallet when it comes to online gambling. Skrill provides a range of additional benefits and is accepted by the majority of casinos. While PayPal is an excellent e-wallet for online shopping, it is not the best for online gambling.