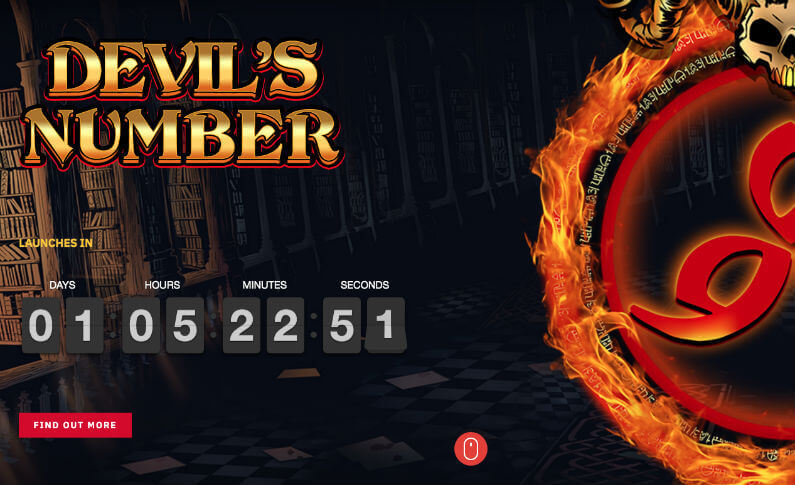 Red Tiger Releases Two New Slot Machines
Red Tiger is an online game development company that is committed to releasing new games continuously. The company knows that to stay successful, they must launch new titles at least once a month. Founded in 2014, the company's founders were experienced industry professionals who knew the ins and outs of starting a new business and taking it to the top of the online gambling industry.
Red Tiger's portfolio comprises mostly of modern slot machines while there are only four table games (Deal or no Deal Blackjack, Classic Blackjack, European Roulette, and Baccarat).
The Devil's Number
Red Tiger is releasing a game called "Devil's Number" on April 11. From the preview screenshots, one can see that the story leads us underground, into the devil's library filled with scary statues, skeletons, and mysterious books.
The designers at Red Tiger paid great attention to details and colours, with black and red at the bottom, and the screen getting progressively red to be in line with the devil's home.
Structure & Paylines
"Devil's Number" has five reels and four rows with 30 paylines. This was a sensible move since many gamblers complained about games that used 243, 1,024, 2,048, and 4,096 ways to win systems, which can sometimes take the fun out of games.
Although the RTP is unknown, Red Tiger revealed that "Devil's Number" is going to be a high volatility slot game, making it harder to match symbols, but significantly increasing prizes in value.
Payouts
The payout is satisfying, with a chance to win as much as 2,500x the bet. One of the features includes the infamous number 666, which is the name of one of the bonus features. Other features include upgrades, removals, and free spins. The game will be compatible with smartphones, desktop, tablet, and TV devices.
Mystery Reels MegaWays
A recent release from Red Tiger, "Mystery Reels Megaways", has six reels and seven rows, and an unknown number of paylines due to the MegaWays system.
MegaWays System
The MegaWays system is exciting as the number of symbol fields varies in each round leading to different ways to make a winning combination. The game has bells, horseshoes, and fruits designed according to the latest requirements. The available bonus features include free spins, MegaWays, and a mystery fruit bonus feature.
The game launched in March and has already gained a following. The maximum win in the game is 10,000 coins, and the game is available on desktop, tablet, smartphone, Android, iOS, and TV devices. Players can try out the free mode to test the features and understand the game before playing for real money.
Top 5 Red Tiger Casinos