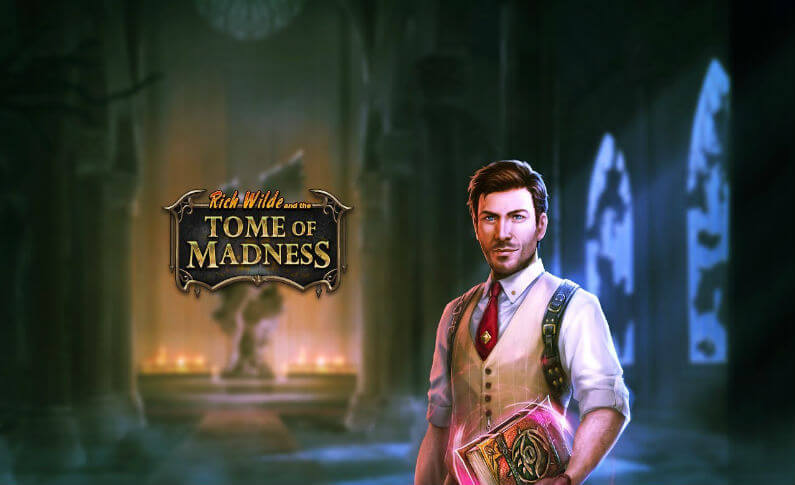 Play'n GO Adds a Brand New Game to the Rich Wilde Series
Each year, hundreds if not thousands of new slot machines are released, making it difficult for players to filter through them and find the most interesting and fun games to play. If you're looking for a tried-and-tested developer, why not try Play'n GO, one of the most dominant companies on the market that has released the popular Rich Wilde series of games?
One of the latest titles in the series is Tome of Madness, which features a unique 5 by 5 structure with no paylines. The aim is to get the matching symbols to touch each other either vertically or horizontally, connecting as many as possible to earn a prize.
First Impressions of Tome of Madness
The game creators pay close attention to first impressions, and Tome of Madness is no exception. Upon launching the game, players are greeted by a nice welcome page and short cutscene. Players are encouraged to listen to the monologue before the reels appear, as it's fairly short and sounds great.
When the reels do appear, players will notice that there are 25 symbol fields due to the unique structure of the game. However, what is strange at first is that there is no information about paylines. The goal is to get matching symbols to touch each other either vertically or horizontally to create a winning combination.
Features of Tome of Madness
Players will appreciate the eight unique symbols in the play table, including 4 gemstones; green, blue, red, and purple, and additional symbols like a skull mask, ring, sword, and an amulet which is the highest-paying symbol. The game also has five different types of wild cards, including ones with special abilities such as triggering Portal effects, doubling all prizes won in the round, or moving the entire grid to increase the odds of winning.
The main bonus feature in Tome of Madness is the Portal feature, which is activated after each win and adds two special wilds to the table. Once players get a winning combination with one of the wilds, two additional features are activated. The Abyss feature removes a column or row, and the Void feature randomly selects and removes all instances of a chosen symbol on the reels.
The Other World Free Round is activated after winning on 42 symbols and adds another Portal effect to the game. Players can activate up to 7 Portal effects and receive a unique one when there are no more wins.
Betting and RTP in Tome of Madness
Players can choose their total bet size by picking from a list below the reels and the game offers an RTP of 96.59%, which is above the market average.
If you're unsure about playing with real money, you can always try the free version of the game.
Check out some of the best online casinos offering free games from Play'n GO. Happy spinning!
Top 10 Play'n GO Casinos