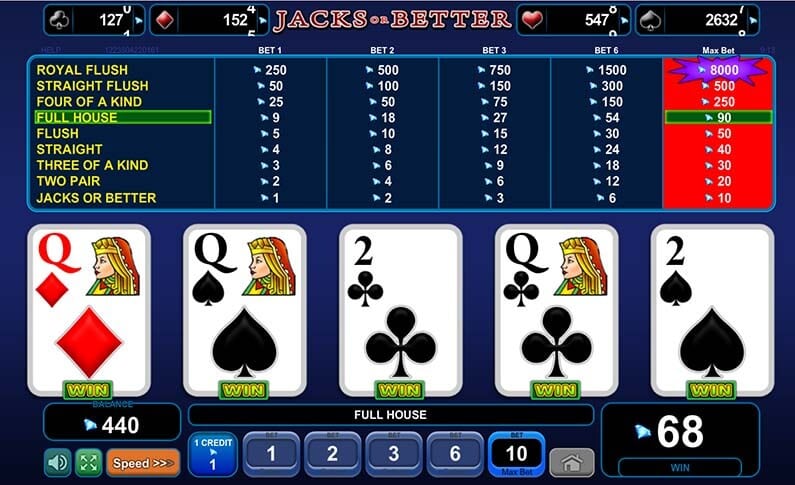 Playing Strategies and Tips on How to Win in Jacks or Better by Playtech
When it comes to casino games, many of them rely on pure luck. However, some classic games, such as video poker, require skill and strategy to win. Playtech's Jacks or Better is no exception to this rule. This popular video poker game challenges players to make wise decisions based on the cards they hold.
To begin playing, players must choose how many coins to wager, ranging from 1 to 5 coins with a value of $0.05 to a maximum bet of $10. Once the game starts, the system will distribute 5 cards to the player. The player must then decide which cards to hold and which to discard, with the objective being to achieve a high-paying hand.
Jacks or Better rewards players for hands that begin with at least two Jacks. Understanding the various hands and their corresponding payouts is crucial to enjoying this game. Here are some of the most significant hands to keep in mind:
High and Low. A high card refers to any card higher in value than a Jack, including Kings, Queens, and Aces. Conversely, a low card is any card with a value lower than a Jack, such as the cards numbered 2 to 10.
Royal Flush and Straight Flush. By far, the two most lucrative hands in the game. A Royal Flush consists of five cards in sequential order, in the same suit, starting with a ten and ending with an Ace. Meanwhile, a Straight Flush also consists of five sequential cards but does not need to start with a ten.
Four-of-a-Kind and Three-of-a-Kind. These hands each have four or three cards of the same value, respectively.
Full House. A combination of a Three-of-a-Kind and a pair of another value.
Flush. Five cards in the same suit, in no particular order.
Straight. Five cards with consecutive values, in a different suit.
Two Pairs. Two pairs of cards of the same value.
Apart from understanding these hands, Playtech's Jacks or Better offers a paytable to help gamblers understand the potential payouts.
If you wish to win massive jackpots, it's recommended to wager with five coins. However, beginners are advised to start by placing small bets, such as one or two coins per game. Here are a few tips and tricks to help improve your winning chances:
Discard the fifth card if you already have four cards towards a Royal Flush.
Focus on getting a High Pair, Three-of-a-Kind, or Straight since these hands tend to offer better returns than trying to form a three-to-a-Royal Flush.
Always keep your Full House, Two Pairs, Three or Four-of-a-Kind if you already have them.
Hold on to your High Pair unless Four Cards-to-a-Royal Flush or a Straight Flush is possible.
Keep the Four-to-a-Flush, Straight, and High Pair if only two cards are required for a Royal Flush.
While playing Jacks or Better, it's critical to remember that a basic strategy is not always enough to win. It takes skills, knowledge, and strategy to beat the system.
In conclusion, Playtech's Jacks or Better is a game that demands players to develop their skills and the ability to make smart decisions. With a keen understanding of the different hands and their corresponding payouts, players can increase their chances of winning significant jackpots.
For those who want to try Jacks or Better's various versions, including Jacks or Better Multihand or Jacks or Better 1-Hand, House of Jack, and Fair Go Casino are two of the casinos that offer Playtech games.