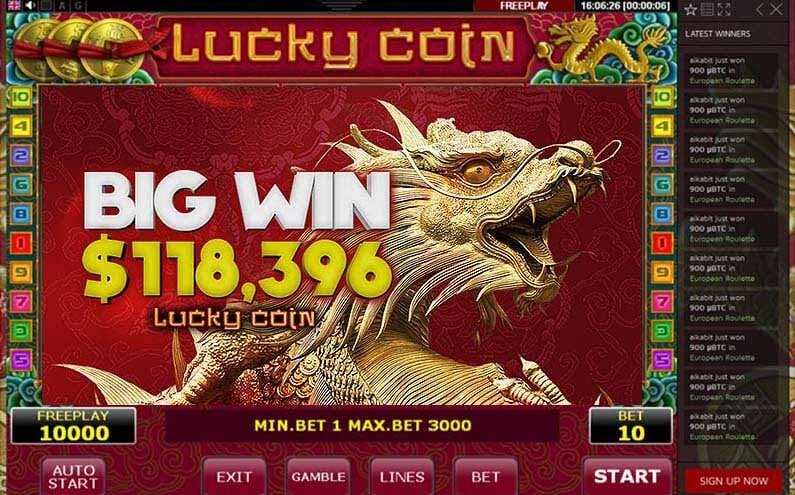 Player reaps $118,396 on Lucky Coin in the second biggest win ever!
A player has just won the second biggest single spin win in BitStarz history by landing Lucky Coin.
BitStarz is known for paying out huge amounts to players, thanks in part to Amatic games. These games are volatile, often paying out big or not at all. In fact, three of the five biggest wins in BitStarz history were on Amatic titles.
While Amatic games may have a somewhat outdated design, the winnings they provide are cutting edge. Lucky Coin has now facilitated the second largest win ever at BitStarz, with over $118,000 won in a single spin. A few months earlier, the fourth largest win in the casino history occurred on the same machine, with a lucky player taking home over $85,000.
The winner of the Lucky Coin jackpot also won big on other slot games that day. They won $64,607 on Wolf Gold, making it the eighth biggest single spin win in BitStarz history. This means that the player managed to claim two record wins in a single day.
Bitstarz.io offers an extensive range of games from various providers in a hybrid multi-currency environment. It has earned a reputation as one of the leading bitcoin casinos, always at the forefront of releasing new and exciting games.
Srdjan Kapor, the Marketing Manager of BitStarz, commented on the win: "It's one thing to see a top win at BitStarz, but to get two wins in top 10 in a single day is an extremely rare occurrence." He continues to question whether the lucky player will manage to secure more wins in the top 10, adding "Once again, congratulations!"