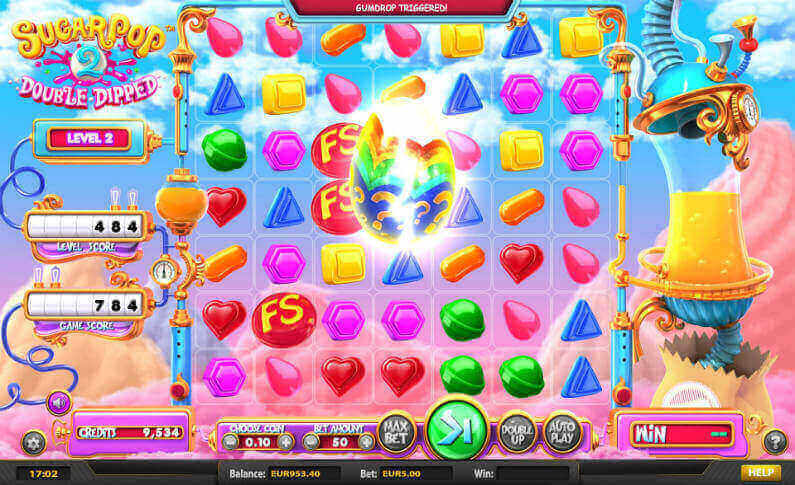 New Slot from Betsoft: Sugarpop 2 – Double Dipped
When Betsoft Gaming's Sugarpop was first launched in 2014, it received a warm welcome by gamers due to its sweetness and uniqueness. The game is reported to be inspired by the popular Candy Crush game, which involves matching and swiping similar candies with your smartphone for high scores, and many slot enthusiasts have found Sugarpop to be the best version of the game. Betsoft has now, in February 2018, released an upgrade of the Sugarpop game, called Sugarpop 2: Double Dipped, offering double the fun, double the thrill, and double the chances of winning.
Check out the game play preview here:
Sugarpop 2: Double-Dipped Offers Exciting Prizes
For gamers who love colors and visuals, this game should be on top of the to-play list. This specialty game from Betsoft is a visual treat and offers an assortment of colors and graphics to remind players of the decadent sweets found in candy shops and stores. Sugarpop 2: Double-Dipped takes players to a playground where sweets and clouds come together, and presents a 7 by 7 grid video slot that uses the cluster win system, which can boost winnings. Betsoft offers many features to make your gaming experience more exciting, including:
Cluster Free Spins
Unlike other online slots games which need three scatters to win Free spins, Sugarpop 2: Double-Dipped requires four free spins symbols to start winning Free spins offers. A set of four free spins symbols will reward players with five extra spins, and with more Free spins symbols on the grid, the number of Free spins can increase. For every additional Free spins symbol on the reels, two extra Free spins will be added to the player's account.
Candy Bomb
Like the Candy Crush game, certain symbols will explode in Sugarpop 2: Double-Dipped, which delivers more points via its Candy Bomb feature. To activate this feature, five winning clusters must be achieved, and the more winning clusters that are shown on the grid, the more powerful the bomb becomes.
Candy Wilds
A winning cluster of at least five symbols generates a wild that remains when the cluster explodes on the screen.
Level Up
Players can level up and win cash prizes when they obtain at least four Level Up symbols to move from one level to the next. When a player levels up, new candies are added to the mix to make the slot game more interesting. Gum Drop, Caramel Chew, Candy Cane, and Lollipop are some of the popular candies that Betsoft has added to the game.
Chocolate Surprise Egg
This special feature of the game appears randomly and cracks open to reveal another special candy, each with its own abilities and advantages. For instance, the Jelly Bean Cannon fires jelly beans, while the Sweet Hammer smashes the board.
This new Sugarpop game also comes with a Double Up feature that allows players to gamble and double up winning prizes. Players simply need to select the Double Up icon after a standard win, and the gamble mode will start. Keep in mind that the feature isn't available after a Free spin, level up, or Candy Bomb feature. Players also have the option of gambling all or just 50 percent of their winnings.
Sugarpop 2: Double-Dipped is the sequel to the original Sugarpop game, a fun and engaging game that's sure to appeal to a wide range of players. If the original game caught your attention, this new version will definitely exceed your expectations. The symbols used in the game are colorful, offering many engaging features, making Sugarpop 2: Double-Dipped an amazing and visually stunning experience for slot players everywhere!
Check out our list of top five Betsoft casinos below

Top 5 Betsoft Casinos