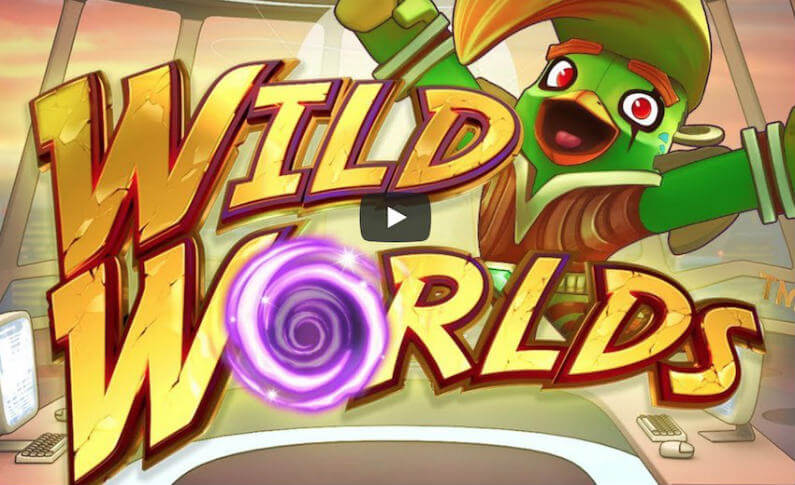 NetEnt Wild Worlds Slot Machine Review
Few things excite online gamblers more than news of new releases from dominant companies in the industry, such as NetEnt. Everyone is aware of the great contributions the provider has made to the industry thus far, and one of the best ways to show appreciation is by trying out their new games!
The Wild Worlds slot machine was released on April 9th, and we're offering you exclusive information so you can get right into it fully prepared.
About the Wild Worlds Slot Machine
Wild Worlds is a 5×5 slot machine featuring cluster pays, a concept we will discuss shortly. But first, let's talk about an essential aspect of every slot machine out there — the RTP or Return to Player.
The theoretical Return to Player percentage is the amount of all the money players spend on a game that is returned to them. Some will win, some will lose, but in the end, 96.47% of all investments made will be returned to players, giving the lucky ones a bit more.
As pictures speak much louder than words, we won't go into details about the graphics. Not because we don't want to ruin your surprise, but because there is so much animation going on that it would take forever to describe everything. Get ready to experience something you have never seen before, thanks to the extremely skilled minds standing behind all NetEnt releases.
Just like any other NetEnt game, Wild Worlds can be played across all devices, including PC, Mac, Android, iOS, tablets and any other smartphone operating system. Optimization is crucial nowadays; it enables players to launch favorite games directly in their browsers and play them instantly.
Gameplay Mechanics
It is critical to be able to spend any amount of money on each spin when playing with real cash. NetEnt has always allowed its users to experiment with the bet size, which is why they have included such a wide betting span in the Wild Worlds slot machine as well.
The minimum per spin is £0.20

The maximum goes all the way up to £400.00 per spin
This means that regardless of how small or big your budget is or what your playstyle is, you can find the perfect amount to spend on each roll. When it comes to the characters and animations in the game, developers and designers were obviously inspired by comic books and their heroes.
Symbols & Features
The symbols are quite simple and are presented as gems in different shapes and colors. You can see every symbol in the paytable section, along with their values and multipliers applied to your bet in case of a winning combination.
The most important part of the game is understanding cluster pays. Don't let the fact that there are zero paylines in the game confuse you, as creating a winning combination merely entails forming an array of connected symbols. Unlike symbols, cluster pays do not need to be in a straight or a zigzag line. Instead, two symbols can connect in the first reel, followed by three in the second, etc. If you have never had an opportunity to play a slot with such a mechanism, make sure to experiment with it in free mode before playing with real cash.
The Destroy feature is quite fascinating as it is activated randomly. It selects one symbol and locks all symbols of its kind on the reels, while the others drop down, making room for new ones to fill in the gaps.
If you land a medium-sized winning combination (with hero symbols), all other symbols of that type will become wild signs. This feature was named the Hero Wilds feature by NetEnt.
The fun starts when at least three scatters appear anywhere on the reels. That will not only activate a bonus round, which we will discuss shortly, but it will also award you eight free spins. The bonus activated using the scatters consists of three levels that you go through by defeating the monsters using Hero Special Attacks and basic Hero Attacks.
The three levels are named:
Dark Forest

— Places random spreading wilds on the reels whenever you destroy the weak spot of the monster.

Ice World

— Two heavy wild symbols appear randomly on the board whenever you destroy the weak spot of the monster.

Fire Lands

— Destroying the monster's weak spot places 2, 3, or 4 wild signs at random positions on the reels.
You can stumble upon two different monsters:
Captains

— Have 15 health points and activate wild features when defeated.

The Boss

— Seven times stronger than captains (105 HP). You can only damage it after destroying all the captains. If you manage to take it down, you will progress to the next level and get eight additional free spins.
You damage the monsters by creating winning combinations with hero symbols. Keep an eye on the hero meter below the heroes. Once filled, it will deal bonus damage to the monsters. The amount of damage depends on which hero makes the winning combination.
And hey, still having trouble understanding the meaning of paylines, reels, scatters, wilds, symbols, and other weird terms? Stay calm – we have you covered! HitListCasinos Navigator – Your glossary to master online terms and abbreviations.
Final Thoughts
NetEnt hit the nail on the head with Wild Worlds, as it has everything an online gambler could ask for:
A wide betting span

High RTP

Lots of bonus features

3D animations

Animated features

Cluster pays
If you think this might be too much for you, give it a try in free mode. It will cost you nothing, no one will force you to deposit money, and you can play it that way for as long as you like. Who knows, maybe this turns out to be one of your favourite, if not the favourite, games of all times.
Good luck!
Check out these Top 5 NetEnt casinos.