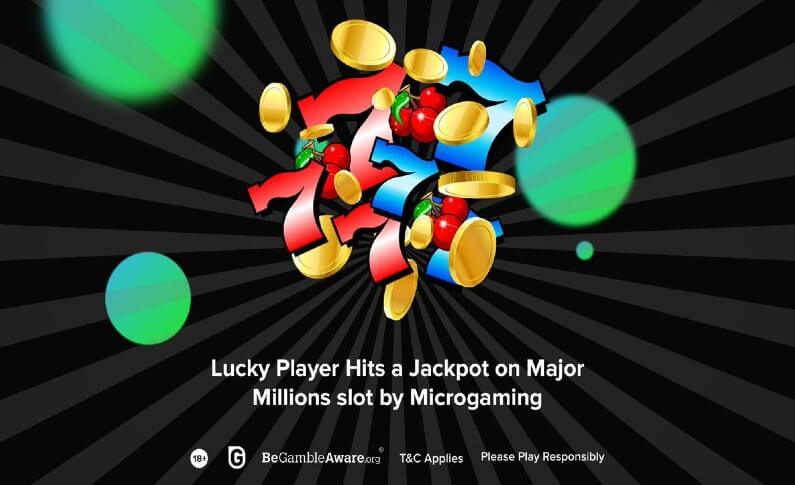 Posted in Winnings
April 26, 2020
Microgaming's Major Millions Slot Throws a Major Jackpot
Microgaming is among the top five slot providers in the online gaming industry for several good reasons. Players are always excited to see Microgaming's games available in online casinos because the provider offers the highest jackpots for online slots.
In fact, some of the largest jackpot payouts in history have come from Microgaming slots. Today, we'll talk about one recent jackpot hit by a lucky player.
Find out more interesting facts about Microgaming here.
Microgaming Pays Out Over €1.5 Million
One fortunate punter decided to try out Microgaming's Major Millions slot on March 14 this year. It turned out to be the best decision ever, as they won €1,650,910.31 jackpot!
The winner's name and the magical casino remain elusive mysteries. Nevertheless, this excellent news will serve as an inspiration to punters everywhere and show that amazing rewards are possible in the world of spinning reels.
About Major Millions
If you're unfamiliar with Major Millions, it's a 3-reel classic Microgaming progressive slot with up to 15 paylines that's known for delivering huge prizes.
With a cartoonish military theme, the game's simplicity makes it ideal for beginners. However, the $3 maximum bet per spin that activates the progressive jackpot appeals to high rollers.
Compared to other classic slots, Major Millions often includes multipliers and Wilds, making it more likely to produce big payouts.
Learn more about progressive slots and jackpots here!
How to Win the Major Millions Jackpot
This amazing title provides two ways to win an incredible jackpot. If you prefer traditional slots, the 3-reel classic Major Millions slot with three paylines is a great choice. However, keep in mind that to activate the jackpot, you need to bet $3 per spin and land three Wild symbols on the third payline.
If you prefer a more modern version of Major Millions, then the 5-reel video slot might be what you're looking for. This version has a total of 15 paylines and offers a jackpot when five Wild symbols appear on the 15th active payline. However, you still need to keep to the rule of wagering $3 per spin.
Learn about wagering requirements in our guide.
Still unsure which one to try? Both versions offer an equal chance of winning the progressive jackpot.
Microgaming and Jackpots Go Hand in Hand
This amazing €1,650,910.31 jackpot represents just one of many that Microgaming has paid out. Major Millions Progressive online slot and other Microgaming slots are among the most significant jackpot providers in the industry due to high payouts and player interest. Major Millions is one of the most popular games on the market, and who knows, next time the jackpot could be even bigger. So head over to your favourite online casino, spin those reels, and see what happens.
Top 5 Microgaming Casinos