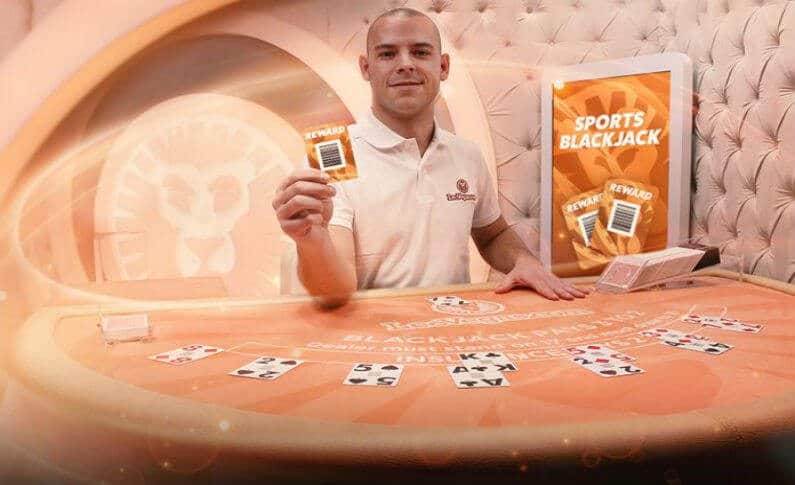 Posted in Industry
July 27, 2018
LeoVegas Launches a New Kind of Live Blackjack, Perfect for Sports Fans
For those who love both sports betting and online casino gambling, the new Live Blackjack game from LeoVegas is the perfect combination. This game features a native-speaking dealer, live streaming of sports events, and an online chat feature, creating an immersive and exciting experience for players. The current sporting events available for streaming are the Champions League, Premier League, and multiple domestic football leagues. The LeoVegas team has also promised to add more events soon, including the Grand Slams, Super Bowl, Olympics, and World Cup. This innovative game aims to provide players with a personalized and interactive experience.
LeoVegas is taking a risk by targeting a very specific audience with this game, that is, UK punters. While this may limit its appeal, the game's potential for success cannot be denied. This innovation in online table games shows the industry moving in the right direction by providing more personalized experiences for players. Live casino gaming has recently taken a huge step forward with the launch of Live Dream Catcher, and now LeoVegas is attempting to create an enriched version of traditional blackjack. We look forward to seeing the results of this experiment.
Game Features
A Live dealer game that offers a sport-themed take on classic blackjack.

The blackjack table features live streaming of sports events.

The game currently offers chat features so players can communicate in real-time.

The dealers working the Live blackjack table are native English speakers.

The assortment of sports streaming events currently includes the Champions League Football, Premier League Football, Spanish domestic football, German domestic football, and Swedish domestic football.

LeoVegas team has promised to add Grand Slams, Super Bowl, Olympic Games, and World Cup soon.
The Future of Sport-Themed Live Blackjack from LeoVegas
LeoVegas' innovative game of Sport-Themed Live Blackjack is creating a more personalized and immersive gaming experience for players. This game is targeted towards UK punters, and we shall see how successful it is in the coming months. However, LeoVegas has shown that the industry is moving towards personalized games, and this innovation is key to players enjoying online casino gambling.