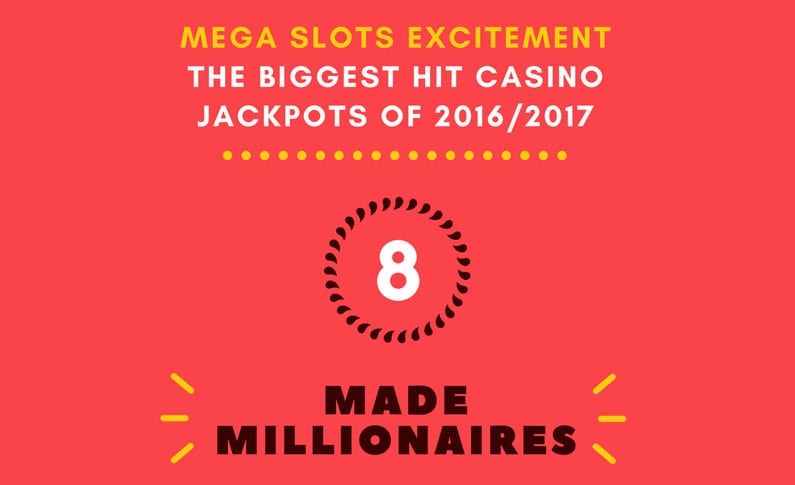 Infographic: Mega Slots Excitement – The 8 Biggest Hit Casino Jackpots of 2016 & 2017
The years 2016 and 2017 have set new records in online casino and slot game entertainment, particularly when it comes to hitting jackpots. According to the latest data from the industry, a number of online slot game enthusiasts have joined the exclusive ranks of millionaires, and we couldn't be happier! Recent years have seen slot games evolve into "millionaire-makers," particularly with the introduction of top slot games designed and provided by leading software providers such as Net Entertainment (NetEnt), Playtech, and Microgaming. While the jackpots vary according to the game provider, the results remain the same – happy players walking away with great memories and even bigger smiles. So, to celebrate the latest wave of jackpot winners in online casinos and slot games, we have curated a special infographic, "Mega Slots Excitement – The 8 Biggest Hit Casino Jackpots of 2016 & 2017."

The 2017 Biggest Claimed Jackpots: Meet the First Millionaires of the Year
Online gambling is no longer just a pastime to experience a rush of adrenaline. For several lucky individuals, it can become a life-altering moment when hitting the biggest online jackpots. This year alone, several players claimed enormous progressive jackpots by playing online slots. Note that these are just the top winners; hundreds of people win significant amounts of money every day.
Jackpot of €7,437,199 won on Mega Fortune Dreams at BGO Casino
BGO Casino is known for great promotions, extensive collections of excellent games, and a 100% guarantee of payouts. At the beginning of this year, a man from Cheshire won an outstanding progressive jackpot of over €7.4 million after placing a single bet of €1.25. The press release by NetEnt, the developer of Mega Fortune Dreams, was made on January 3rd. This is not the first time a player has become a millionaire thanks to the Mega Fortune Slot, and it undoubtedly won't be the last. Like all games developed by NetEnt, Mega Fortune Dreams is captivating, beautiful, and offers significant chances of winning.
€6,681,487 Mega Moolah Jackpot Claimed at Zodiac Casino
Mega Moolah is one of the most popular slots developed by Microgaming. This year alone, its progressive jackpot of over €6 million was won twice. On the 14th of March, a player claimed this most recent win. The player continued to remain anonymous, but this win undoubtedly had a major impact on their life. This jackpot was won via a mobile device, making it the second largest mobile win in history. It is interesting to note that the first mobile win was claimed on Mega Moolah as well in August 2016 – the jackpot was worth over €7.9 million. Mega Moolah has paid out over €647 million in winnings since its launch, and its jackpot has been triggered 31 times, with two activations happening in the past three months. Jonathan Heywood currently holds the highest single payout record in Mega Moolah, as he won a £13.2 million jackpot in 2015.
€6,078,249 Mega Moolah Jackpot Won at Captain Cook's Mobile Casino
N.C., a novice player, managed to make a fantastic start in gambling by winning a massive jackpot of more than €6 million on the 16th of January of this year. The lucky player hit the jackpot using the Captain Cook's Mobile Casino welcome offer. This win proves that mobile gambling is the future of online gambling.
Mega Fortune Dreams Jackpot of €3.5 Million Won at PAF Casino
In 2017, a 62-year-old lady hailing from Finland started the year with a bang, winning €3.5 million from a €1 bet in the first days of January. This was thanks to the Mega Fortune Dreams from NetEnt at PAF Casino, which is renowned for its quality and reliability. NetEnt presents the most significant competition to Microgaming in terms of progressive jackpots. The slots from these two companies are now the online gambling industry's main millionaire producers.
However, numerous other games are worth considering, and many more jackpots are to be claimed. In the last few weeks alone, PokerStars Casino has had over €4.2 million claimed in jackpot payouts. PokerStars only recently started offering mobile slots, so this is quite a success for players. One lucky player won $1.4 million on Millionaires Island, having only used the casino portion of the PokerStars platform twice.
The 2016 Biggest Claimed Jackpots: The Year's Biggest Slot Jackpots Recap
Record €5.8m UK Mobile Slot Jackpot Won
A librarian from Scotland got the shock of her life when she hit the Jackpot Giant game from Playtech, which rewarded her mobile bet of £4 with a whopping £4.3 million payout. Her win remains the largest mobile slot winnings in UK history.
Mega Jackpot from Mega Moolah worth Almost €7 Million
Microg