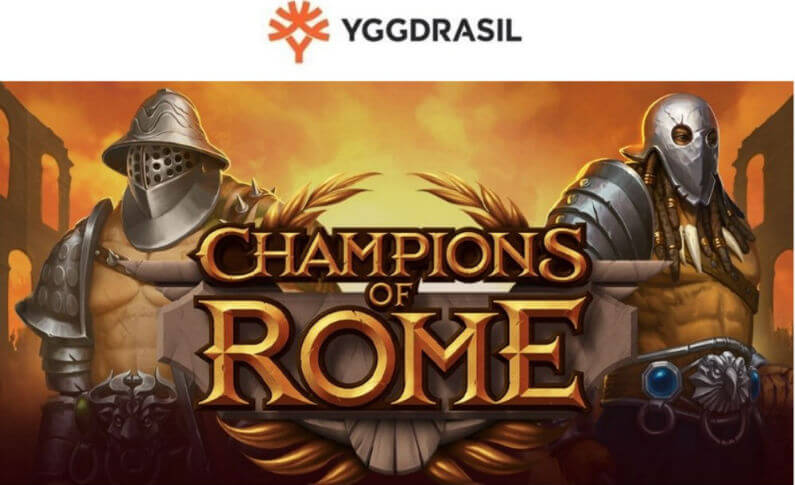 Get Ready to Fight for Prizes with Champions of Rome
Yggdrasil Gaming has launched a new slot game where players are challenged to choose a gladiator and fight for glory and prizes. The game takes inspiration from the legendary gladiators of Rome, unleashing a different kind of action on its 20 paylines. The game features the mightiest warriors of the Coliseum, with blood-soaked symbols ready to play. To activate one of the three Gladiator features, you can unlock one of the three weapons, Swords, Mace, or Trident. These weapons have varying effects, such as adding wild symbols to the reels.
Swords

. It adds a 2×1 or a 1×2 wild symbol to the reels.

Mace

. It adds 2×2 wild symbols to the screen.

Trident.

It adds 4 random wild symbols to the reels.
To unlock this feature, you need to acquire 2 Free spins symbols. If you get at least 3 Free spins symbols, you can activate the bonus round, and awards will range from 20 coins to 12,000 coins for 3 to 5 bonus symbols accordingly. More than that, Champions of Rome provides players the opportunity to select the preferred Free spins mode from two options: Training Mode or Deathmatch Mode. Each mode offers different risk levels and rewards.
Training Mode
The Training mode gives players 8 Free spins and is considered a low-risk round as you can keep all of your Free spins winnings.
Deathmatch Mode
The Deathmatch mode offers three risk levels that players can choose from; 5, 6, and 7 Free spins, each assigned with different multipliers for potential winnings. It's a gamble mode since you have a choice between the number of Free spins and the risk level, and an opportunity to increase the total win multiplier by decreasing the number of Free spins. If the player does not accumulate at least 450 coins during the Deathmatch mode, a consolation prize ranging from 40 to 200 coins or 5 Free spins on the Training mode will be given.
The Battle for Prizes and Glory Continues
If you think the excitement concludes at the Free spins mode, think again. Champions of Rome also includes the Free Spins Battle with the Beast. The Beast symbol can appear on reels 2, 3, and 4, with three gladiators substituting other high-paying symbols to provide wilds in every spin. When a Gladiator enters, they will throw a weapon at the reels that deliver more wilds in every turn. If the gladiator hits the Beast, an extra spin is awarded to the player.
The game also offers the Buy Free Spins feature, perfect if you can't wait to enjoy the Free spins bonus.
Champions of Rome is designed on the iSENSE 2.0+ platform and is compatible with Windows, iOS, and Android operating systems. Furthermore, with a 96.4% RTP (return-to-player), it is an exciting and secure game for players to enjoy and try for free or real money. You may check our website to find the leading online casinos that offer this game; all the websites are checked and reviewed, ensuring that Champions of Rome by Yggdrasil Gaming will be your most secure and entertaining experience.
Top 5 Yggdrasil Casinos