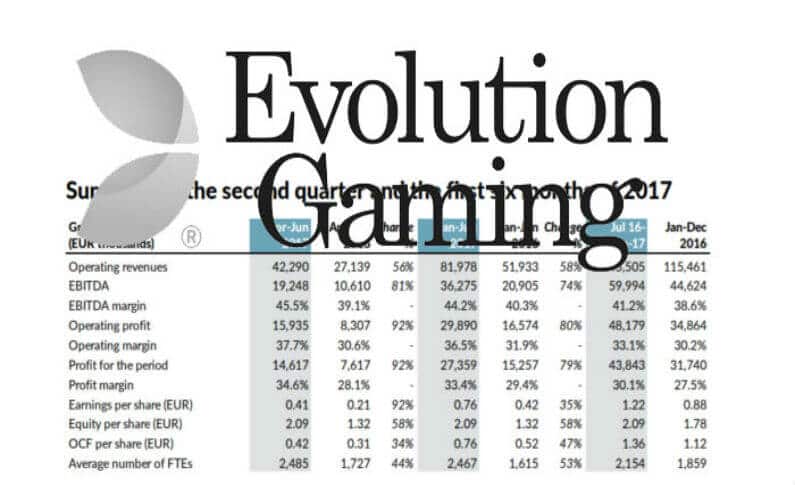 Posted in Industry
August 25, 2017
Evolution Gaming Boosting Top Live Gambling Developer Status with Doubled Profits
Evolution Gaming took the online gambling world by storm when they launched in 2006 and they have remained the top live gambling developer in the industry ever since, as confirmed by their recent win of the Live Casino Supplier of the Year award for the eighth consecutive year. The company's success is further reflected in their latest revenue report, which shows that their profits nearly doubled in this quarter when compared to the same time period in 2016.
Evolution Gaming Q2 Report – Impressive Figures Revealed
Evolution Gaming's operating revenue was €27.1 million in the same quarter of 2016, which is already an impressive feat given the economic challenges and gambling legislation changes that many businesses in the industry have faced. However, the company's revenue surged forward to a staggering €42.3 million in Q2 of 2017. This 56% increase adds to the company's impressive reputation and showcases the sound business decisions that they consistently make. The company's earnings per share also increased from €0.21 in 2016 to €0.41 in Q2 2017.
Despite being such a successful business, Evolution Gaming shows no signs of slowing down. They continue to expand to new markets and create innovative new games that appeal to a wider audience. Their recent success with Dream Catcher, the first non-table live casino game, is a testament to their readiness to take risks and create interactive entertainment that attracts a diverse crowd. The company is working on developing more unique games that will set them apart from their competitors.
The company's CEO, Martin Carlesund, affirmed that growth for the company will continue and that they will keep creating new tables and dedicated environments to meet the demand for their live casino services.
Evolution Gaming Continues to Develop Future
Evolution Gaming has signed a deal with the Nederlandse Loterij in the Netherlands, opening the door to one of the most profitable European gambling markets.
The company remains the leading live gambling developer not just for online casinos, but also for land-based casinos. The company's technologies provide land-based casinos with the ability to integrate online casinos into their functionality, opening up exciting opportunities for growth in both directions.
Expansion Through New Studios
Evolution Gaming's seven studios, including two of the largest and fully independent, are a testament to their dedication to providing top-notch live video streaming for all their games. Another studio in Tbilisi, Georgia will join their roster of studios in 2018, giving the company greater access to Eastern markets. Additionally, the company's Canadian studio, set to launch by the end of 2017, will focus on catering to North American audiences.